The Max International Nigeria Compensation and Business Plan is a revolutionary plan designed to pay out a maximum of 50% CV to the field sales organization known as the Associates. This gives you 8 different ways of earning money with the max international Nigeria business opportunity.
1. Retail Profits
---
Associates purchase products at wholesale for personal use or retail to customers for a profit. Each bottle of cellgevity you sell to a customer, you make a minimum of N1000.
2. Preferred Customer Bonus
---
Earn 25% of the wholesale dollar value of the order placed by all your preferred customers. Each time you refer a customer who buys a one month pack of cellgevity at the wholesale price, you earn up to 25% of the wholesale amount.
Preferred customers can earn free products through the Family & Friends program as they refer others to buy Max products.
3. Fast Start Income
---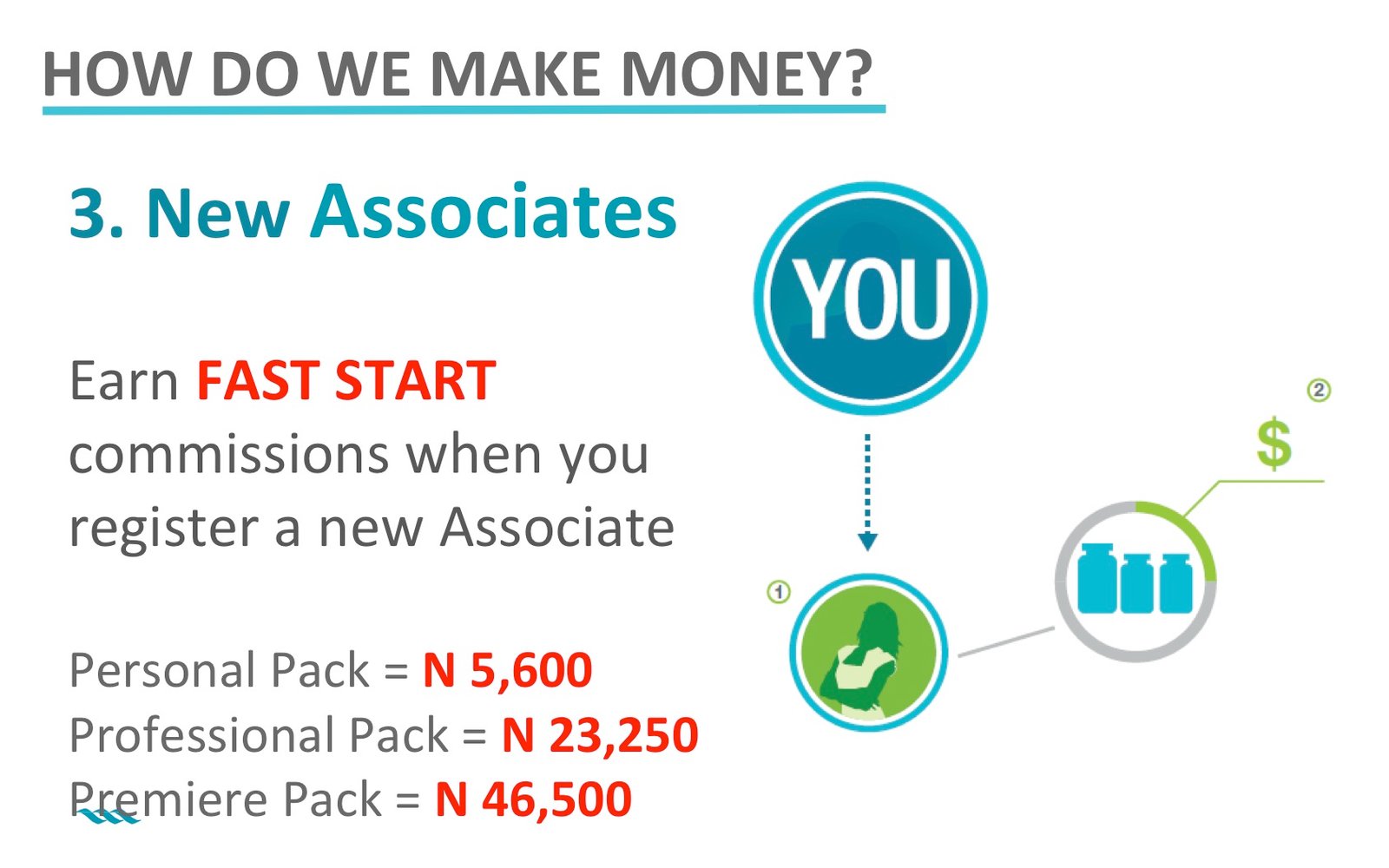 Earn N3,700, N5,600, N23,250, or N46,500 for every new associate you register depending on their enrollment pack.
TO JOIN MAX INTERNATIONAL AS AN ASSOCIATE, CLICK THIS LINK.
4. Prime Bonus Income
---
500 points from 3 or more Personally Enrolled Associates will qualify you for Prime Bonus. E.g if you have 5 enrolled associates active with 100 points each, you qualify.
There are three levels with Prime Bonus.
Level 1: Generate 500cv from 3-5 of your personally enrolled Associates, with at least one on the left-hand side and one on the right hand.
Level 2: help 3 personally enrolled Associates complete Level. 
Level 3: help 3 personally enrolled Associates complete Level.
Max international sets aside 5% of the global profit to share with those who qualify for prime levels 1-3. The amount paid varies from month to month and can sum of to be a huge part of your monthly earning.
Prime bonus is actually the building block of max international business. Every associate should understand it and strive to achieve it every month.
5. Binary Team Bonus Income
---
Residual commissions in Max International are paid out using a binary compensation structure, a left, and the right team. Commissions are paid based on the volumes generated within the binary tree. 10% (wholesale dollar equivalent) of the total points generated by the paid team will be paid as commissions for that month and any unused volume will be carried over to the next month provided the associate is active.
Your commissions increase as your binary team grows.
In order to qualify for binary commissions, the Max associate must be active and should have at least two personally enrolled associates (one on either side of the binary) who are active.
6. Matching Check Bonus
---
The Matching Check Bonus (MCB) has the greatest earning potential of all the different commissions.
Max International pays a matching bonus on binary commissions earned by associates in your enrollment tree, payable up to seven generations of recruitment.
Qualifying for Matching Check rewards enrollment, teamwork, leadership, and duplication. For demonstrating those characteristics, Matching Check provides the opportunity to receive up to a 50% Check Bonus on all personally enrolled Associates. The percentage paid depends on the rank and other requirements.
7. Global Bonus Pool
---
The Global Bonus Pool is made up of 1% of Max International's global CV. Increase your Equivalent Volume by 1,000 CV above your historical high and get 1 share of 1% of all of the Volume that is generated at Max globally.
8. Max Living Bonus
---
Earn $250 – $725 bonus monthly once you hit Platinum status or above each month.
Every associate is required to buy 100 points worth of products monthly in order to keep your business active & earn.
At Max, you can do business in 16 registered countries, and counting…
check out this video explanation of Max international Nigerian Compensation Plan…
Summary of How to be successful with Max International within a reasonable period of time.
To get started, get back to The person that invited you or call us at –  08110996314 OR WhatsApp us on  – 07036753010
To your success.
Clems Tarkper.
Max associates based in Nigeria.
Whatsapp – 07036753010